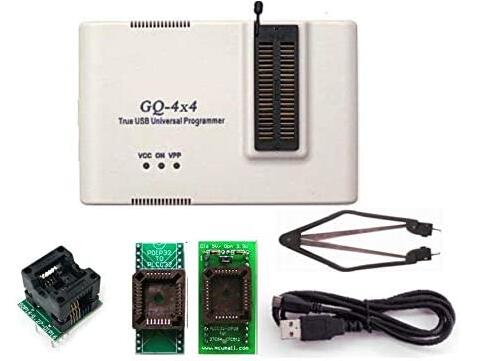 What is PRG-056 GQ-4X V4 Willem Programmer?
PRG-056 GQ-4X is the newest model of True USB Willem Universal Programmer series from MCUmall Electronics Inc Canada. GQ-4X V4 (GQ-4X4) programmer is the enhanced & upgraded version of GQ-4X and newly launched in the market.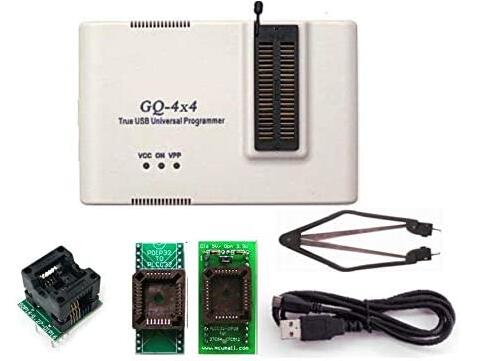 The application-oriented & application-enhanced design facilitates GQ-4X supports thousands of most popular application devices (growing) and ideally suits the portable/convenient applications that includes: satilite devices, BIOS refreshing, motherboard BIOS in-circuit upgrade, xBox,Wii gaming machines EPROM duplicate, Altera Xilinx JTAG, PIC/MCU development, newer laptop technology and newer desktop PC etc.
PRG-056 GQ-4X V4 Willem Programmer Features:
Neat robust enclosure; 40pin ZIF socket, fully automatic; JTAG support; Fast mode SPI support
Support O/S XP64bit, Vista 32bit,Vista 64bit Windows7 32bit 64bit, Windows 8, Windows 10 (English)
Real True USB interface for both data transfer and power supply
High speed/fastest; most-user-friendly; simplest-to-use
Software update regularly; free lifetime software upgrade/download
Multi-languages support capability: Chinese, Czech, English, French, German, Spanish, Portuguese
Supported TSOP48 (16bit & 8 bit), TSOP32, PSOP44, DIP8 to DIP40, PLCC, SOP,SOIC, MCS-51+, PLCC84, and etc
Allows end users to add in their own chips/devices easily (editing .txt file)
PRG-056 GQ-4X V4 Willem Programmer Functions:
Car/automotive ECU chip tuning, airbag reset, mileage, memory device code read/write/program
Satellite large capacity device applications
On-spot/Field/portable applications & Small scale production
Motherboard BIOS in-circuit upgrading
Xbox, wii gaming chip freshing & upgrading
PIC & MCU programming & development
Duplicate EPROM chips & Game machine repairing
Copier/Fax machine/printer main board reparing
VCD, DVD, color TV maintaining& repairing
PRG-056 GQ-4X V4 Willem Programmer Software Download:
GQUSBprg 7.27 Oct-08-2020 Download here
This software is for latest GQ-4X V4(GQ-4×4) universal programmer only.
It needs USB driver 3.0 to be installed first.
This software does NOT work on older version GQ-4X.
The newer version GQ-4×4 has two beep sounds from programmer when it is power on.
The software works on Windows XP,Vista,7,8,8.1,10.
Re 7.27 Fixed 27C010,020,040 ID read issue.
Re 7.26 Fixed AM29F016B PSOP44 chip.
Re 7.25 Fixed Script read error, fixed PIC16F886, added S29AL004D
Re 7.20 Added OneWire protocol chip support, such as DS2431. More other chips updates.
Re 7.18, 27C4096,PIC chips update.
Re 7.11, fixed with ADP-054, 27C1024,27C160 unstable issue.
Re 7.07B, fixed PIC chip missing .dev file issue.
GQ USB Driver 3.0 for GQ-4X V4(GQ-4×4),GQ-5X download here
This is GQ-4X V4 (Known as GQ-4×4)USB driver, it works on Windows XP, Vista, 7, 8, 8.1, 10 etc.
This driver does not work on older version GQ-4X.
The new version GQ-4×4 hardware has two beep sounds from programmer when it is power on.
For specific Window version driver only:
PRG-056 GQ-4X V4 Willem Programmer Support Chip List:
25LF SPI series, PSOP44,TSOP48, 25VF SPI series, Altera Xilinx CPLD JTAG, PLCC84,SST39VF3201, TE28F102, 27C1024, 27C1028,HD6475,29F800, 29LV800, 29F032…